BIPOC/Minority Mental Health Panel
In honor of the Bebe Moore Campbell National Minority Mental Health Awareness Month, HR and ODI have partnered to host an online panel discussion on how racial trauma and other mental health issues impact persons of color in higher education.
.
Thursday, July 15, 2021

11.00 am-noon
Panelists:

University Forums on Race, Policing, and Justice: The Chauvin Trial
We are at a pivotal moment nearly one year after George Floyd's death in police custody, as we await a verdict in the murder trial of Derek Chauvin, the former Minneapolis police officer charged in Floyd's death. While Floyd's death helped bring broader attention and concern to how police encounters can turn dangerous and deadly for adults and children of color, we have seen similar patterns continue to play out, with the deaths of Daunte Wright and Adam Toledo as the most recent examples.
These events affect members of our community in varied and personal ways. The Office for Diversity and Inclusion and the Office of the Provost are co-hosting two University forums over the next week to process these events and to discuss steps each of us can take to support one another and our communities at large.
Friday, April 23, 2021
10 to 11:30 a.m.
Via WebEx: https://uconn-cmr.webex.com/uconn-cmr/j.php?MTID=m8c4410c05c74f2849454f1d326978490
Moderated by Michael Bradford, Vice Provost for Faculty, Staff and Student Development
Panelists:
Wednesday, April 28, 2021
4 to 5:30 p.m.
Via WebEx: https://uconn-cmr.webex.com/uconn-cmr/j.php?MTID=m59debd1e426224787bb0ce48a5b1a420
Moderated by Glenn Mitoma, Director of Dodd Human Rights Impact and Assistant Professor of Human Rights and Education; and Brendan Kane, Associate Professor of History and Languages, Cultures, and Literatures
Panelists:
All faculty, staff, and students are invited to attend. In the spirit of solidarity, we hope to see broad representation from our entire community.
Θ Θ Θ Θ Θ Θ Θ Θ Θ Θ Θ Θ Θ Θ Θ Θ

April 28th, 12- 1.30pm 
In this brown bag lunch presentation, researchers share preliminary findings on whether and how 30 of the top public research universities in the United States are responding to the current wave of anti- Black violence, mostly by state actors. We explore emerging themes and implications for the field of higher education and the nation.
Presenters: Leslie Williams, Ed.D. & Patrick Russell, ABD
Respondent: Frank Tuitt, Ed.D.
Webex Link: https://uconn-cmr.webex.com/uconn-cmr/j.php? MTID=m7fa10c74e66fd5ae8f01d7ec37fe370d
Password: 55ZTeCZwXc8 
Θ Θ Θ Θ Θ Θ Θ Θ Θ Θ Θ Θ Θ Θ Θ Θ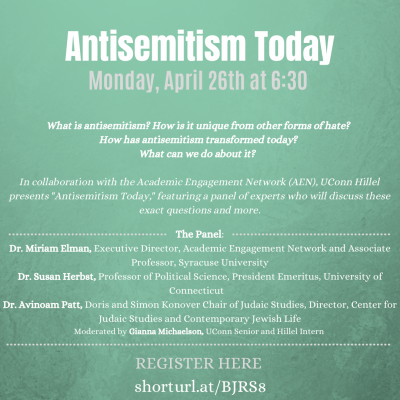 April 26th, @6.30pm
After registering, you will receive a confirmation email containing information about joining the meeting.
Θ Θ Θ Θ Θ Θ Θ Θ Θ Θ Θ Θ Θ Θ Θ Θ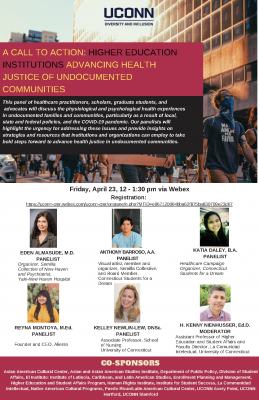 April 23rd, 12 – 1:30pm
Please join us for the second panel in our series focused on undocumented communities, A Call to Action: Higher Education Institutions Advancing Health Justice of Undocumented Communities. This panel of healthcare practitioners, scholars, students, and advocates will discuss the physiological and psychological health experiences in undocumented families and communities, particularly as a result of local, state and federal policies, and the COVID-19 pandemic. Our panelists will highlight the urgency for addressing these issues and provide insights on strategies and resources that institutions and organizations can employ to take bold steps forward to advance health justice in undocumented communities.
The panel will take place via WebEx.
Please RSVP at https://uconn-cmr.webex.com/uconn-cmr/onstage/g.php?MTID=e967120064bba62f875ba830709e23d67
Θ Θ Θ Θ Θ Θ Θ Θ Θ Θ Θ Θ Θ Θ Θ Θ

April 22nd, 4-5.30pm
Please join the Center for the Study of Culture, Health, & Human Development for the launch of its new video "Making Voices Heard," funded by an award from the President's Commitment to Community Initiative. Following introductory remarks by Dr. Franklin Tuitt, Vice President and Chief Diversity Officer at UConn, the video will feature UConn undergraduates, graduate students, young professionals, and faculty in conversations about experiences of racism and how we as peers and educators can respond positively to current challenges. Following the video presentation, individuals featured in the video will be present to answer your questions. Registration is required.
Please register at https://tinyurl.com/2wynpcrk and you will receive the link to join the event.
For more information or accommodation requests, please contact Caroline Mavridis at: caroline.mavridis@uconn.edu. Following the launch event, the video will be made available for teaching and training purposes through the CHHD website (CHHD.uconn.edu).
Θ Θ Θ Θ Θ Θ Θ Θ Θ Θ Θ Θ Θ Θ Θ Θ

Webex Login: here
Θ Θ Θ Θ Θ Θ Θ Θ Θ Θ Θ Θ Θ Θ Θ Θ

Register here 
Θ Θ Θ Θ Θ Θ Θ Θ Θ Θ Θ Θ Θ Θ Θ Θ
Join APLU in Celebrating Black History Month
Featuring a Special Discussion with Black Public University Leaders
During this event, the featured speakers will discuss their own personal journey, reflect on the history and progress public universities have made toward better serving Black students, and explore the challenges and opportunities for public universities as they work to do more to expand access, ensure the success of Black students and faculty, and foster inclusive campuses.
Amy Cole-Smith, APLU's Associate Director for External Diversity, Equity, and Inclusion, will moderate the session.
Date: February 22, 2021
Time: 4pm
Register here
Θ Θ Θ Θ Θ Θ Θ Θ Θ Θ Θ Θ Θ Θ Θ Θ
Part 3: Is the University Colonial?: Critical Conversations on Its Future
Date: February 15, 2021
Time: Noon
For more info, click here.
Panelists: Stacy Johnson, Ph.D., MBE; Hannah Robbins, Ph.D., Saran Stewart, Ph.D., Glenn Mitoma, Ph.D., & Kathryn Haley
In a three-part series, entitled "Is the University Colonial?: Critical Conversations on Its Past, Present, and Future," hosted by UConn's Office of Global Affairs and University of Nottingham's Institute for Policy and Engagement panelists focus on decolonizing education by examining the role that universities have had in cultivating racism and (settler) colonialism, the present challenges they face in disbanding the unequal and oppressive narratives, as well as the future opportunities to contribute meaningfully to an anti-racist and anti-colonial agenda.
This third and final session of the series will consider the future, with experts debating the possible role of a university in cultivating inequalities. 
A video recording of the first session, "Critical Conversations on Its Past" and second session, "Critical Conversations on Its Present", is posted online, along with a list of additional multimedia resources to consider engaging with before the upcoming sessions.
Θ Θ Θ Θ Θ Θ Θ Θ Θ Θ Θ Θ Θ Θ Θ Θ
HISTORIC FIRSTS: A Conversation on the Georgia Senate Victories
Join us for a fascinating conversation on the historic Georgia Senate victories of Rev. Raphael Warnock and Jon Ossoff, the first Jewish and African American senators from the state.
The program will feature insights from Dr. Evelyn Simien & Lindy Miller, moderated by Prof. Lewis Gordon (UConn Philosophy Department Head) and Prof. Jane Gordon (Professor of Political Science, UConn).
Dr. Evelyn M. Simien is Professor of Political Science, and Director of the Indigeneity, Race, Ethnicity, and Politics (IREP) Master's degree program at UCONN. She received her Ph.D. from Purdue University and specializes in African American politics, public opinion, and political behavior. Author of Historic Firsts: How Symbolic Empowerment Changes U.S. Politics (Oxford University Press, 2015).
A Georgia native, Lindy Miller has two decades of public policy and corporate strategy experience. In 2016, Lindy co-founded Cherry Street Energy, a renewable energy company that has transformed Georgia's energy marketplace. She then jumped into the political arena as a statewide candidate in Georgia's 2018 midterm elections, and currently serves as Strategic Advisor to Her Term and co-founded Georgia Onward PAC in 2020.
Date: February 11, 2021
Time: 7pm
Click here to register
Co-Sponsored by UConn African American Cultural Center, UConn Philosophy Department, Center for Judaic Studies & Contemporary Jewish Life, UConn Hillel, and USG.
Θ Θ Θ Θ Θ Θ Θ Θ Θ Θ Θ Θ Θ Θ Θ Θ
The Strange Career of Fascism in American History: A Conversation with Manisha Sinha and Christopher Vials, moderated by Grégory Pierrot 
Students, union members, faculty, staff, community encouraged to attend. Instructors, please do bring your classes. A recording will be available afterward.
Date: January 27, 2021
Time: 4:30 – 5:45pm
RSVP to pamela.brown@uconn.edu to receive a link next week
Co-sponsored by UConn Stamford faculty, American Studies, Dept. of Political Science, and the Office for Diversity and Inclusion
Θ Θ Θ Θ Θ Θ Θ Θ Θ Θ Θ Θ Θ Θ Θ Θ
From Insurrection to Inauguration: Perspectives and Conversation on the Current State of Our Nation
Dean's Forum
Date: January 27, 2021
Time: 1-3pm
Login: TBD
1:00 pm – Introduction of the forum: Nina Heller
1:05 pm – Setting the context for the afternoon and introducing the keynote: Manisha Sinha
1:15 pm – Keynote: Susan Herbst
1:35 pm – Reflections on the keynote: Manisha Sinha
1:40 pm – Q & A: Moderated by Manisha (with assistance from staff)
1:55 pm – break before breakouts
2:00 – 2:45 breakout groups
2:45 – 3:00 – Return to large group for reporting back
Θ Θ Θ Θ Θ Θ Θ Θ Θ Θ Θ Θ Θ Θ Θ Θ
The Office for Diversity and Inclusion, Human Resources and The Office of the Provost are happy to announce a facilitated discussion for faculty and staff on the insurrection of January 6th and events surrounding it.
Capitol Under Siege: Community Reflections on the Lawless and Violent Attack on Democracy
Session two
Date: January 22, 2021
Time: noon – 1:30pm
Moderator: Dr. Glenn Mitoma
Panelists:
Dr. Sandy Grande
Dr. Willena Price
Don Bell, Esq
Professor Mike Stanton
Dr. Mary Burke
Dr. Richard wilson
Login info: https://uconn-cmr.webex.com/uconn-cmr/j.php?MTID=m92f33a745c3f6c4abb7d4f2937da9881 
Session One
Date: January 14th, 2021
Time: 4:00 – 5:30pm
Moderator: Dr. Brendan Kane
Panelists:
Dr. Matthew Hughey
Dr. Jeffrey Ogbar
Dr. Margaret Lloyd Seiger
Dr. Ngozi Taffe
Dr. Jason Oliver Chang
Login info: https://uconn-cmr.webex.com/uconn-cmr/j.php?MTID=mf17978939610396f9d8d4dabb0f5938b
For accommodations, please email provost@uconn.edu.
Θ Θ Θ Θ Θ Θ Θ Θ Θ Θ Θ Θ Θ Θ Θ Θ
Democracy and Community Dialogue
Date: January 20, 2021
Time: 4:00 – 6:00pm
Click here for more information .
Θ Θ Θ Θ Θ Θ Θ Θ Θ Θ Θ Θ Θ Θ Θ Θ
#ThisIsAmerica: Exploring the History of Racism at UConn
Led by UConn Chief Diversity Officer, Dr. Franklin Tuitt, join us for a community discussion about the student-of-color experience at UConn. Before UConn Nation can positively impact society, we must first examine the true history and experiences of our community. Panelists will unpack the history of racism and student protest from 1970s to present day.
Date: January 19, 2021
Time: 5:30 – 7:00pm
Visit website for more information.
Θ Θ Θ Θ Θ Θ Θ Θ Θ Θ Θ Θ Θ Θ Θ Θ
Avery Point Campus Dialogue
Holding Space in a Moment of Crisis: The Storming at the Capitol
Date: January 19th, 2021
Time: 5pm
Login: https://us02web.zoom.us/j/85724103025?pwd=cXQ4TmZHVU1tUFFlcTV4L3FNZHQ3dz09
Meeting ID: 857 2410 3025
Passcode: XeLc79