Welcome to the Students of Color (SoC) Mentorship Program!
Our pilot program is borne from the recognition that students of color often lack support and community at predominantly white institutions (PWIs) like UConn. The additional difficulties of navigating a global pandemic, widespread economic uncertainty, and visible anti-Black and anti-Asian racism highlighted the urgent necessity for creating a nurturing community and space for students where they can grow and thrive within their own departments. Our program offers alumni mentors the opportunities for community building and creates the change we all desire and need at UConn.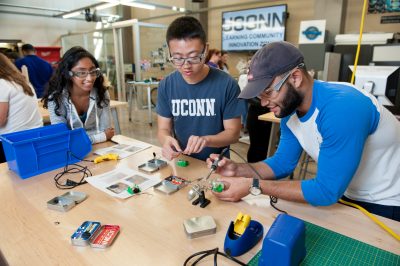 The  SoC mentorship program brings together 50-100 students in the same majors (Pharmacy; Digital Media and Design; Allied Health Sciences; Human Development and Family Sciences; and Marine Sciences) across all of UConn's five campuses (Storrs, Avery Point, Hartford, Stamford, and Waterbury). Together, students will navigate academic and career development challenges with peers and mentors.
Since connectivity is the heart of our program, we value our mentors' continued engagement with our UConn community to renew our spaces that reflect our rich diversity, talents, and experiences. Student mentees also receive peer mentoring training to serve as leaders to incoming and new transfer students, while widening our community bonds. The choice to serve as a peer mentor is entirely optional.
Our program is a collaborative venture between the Office for Diversity and Inclusion (ODI), Alumni Relations, and the Center for Career Development (CCD) that aims to create a nurturing community for our current students and alumni of color.
We are grateful to the 5 departments/schools that have agreed to be in the pilot.
Program Information and timeline