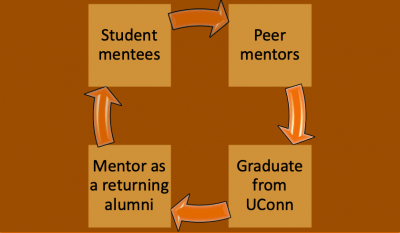 Our program equips students so that today's mentees are prepared to serve as tomorrow's mentors. As connectivity is at the heart of the program, students can also choose to serve as peer mentors to the transfer students and first-year students in their program.
We believe that healthy mentoring relationships are best formed organically. This is why we bring together alumni mentors and student mentees and let the students decide on their community of mentors. With an emphasis on connectivity, we encourage our students to build a community of up to three mentors including their primary mentors.
The program functions in 2 ways:
Department scheduled events (panels/activities/networking): Each department will offer 2-3 events per semester that are optional for both mentors and mentees to attend.
Mentor-Mentee one-on-one meetings: We recommend that mentors meet with their mentees for a minimum of 2 hours each month. While we leave the time allocation to the mentors and mentees, we suggest meeting once a week for 30 mins.
**Mentors: If you are unable to offer the time commitment as a full mentor but would still like to be involved in the program, we encourage you to register with us and participate in the program as a speaker or panelist through the department programming.
The pilot version of the mentorship program will run from June 2021- May 2022 and will primarily be remote, until more is known about in-person programming at UConn. Our timeline is as follows:
Required Summer 2021 Events 
July 21 or July 22
Training- Mentors (Power Dynamics and Mentoring)

Training-Mentees: Professional Communication, Informational Interviews, Building a professional online presence, Peer Mentoring (receiving peer mentoring training does NOT mean you are obligated to serve as a peer mentor)

July 28
Program Kick off – Meet and greet your cohort (includes all departments)
Week of August 9th
Mixers: Department-specific networking event for mentors and mentees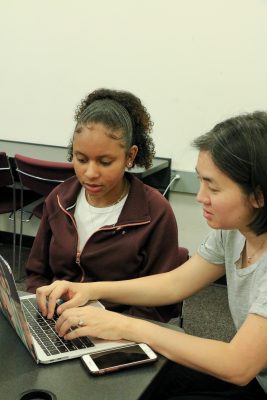 Fall 2021
September first week
Students will finalize their mentor(s) and establish a communication plan/preferred mode of reaching out (ex: Zoom, WebEx, Google Hangout, phone calls, texts, etc).
September-December
Student mentees and mentors meet for 2 hours each month

2-3 department events including panels/mixers/activities (attend as schedule permits)

Volunteer peer mentors offer peer mentoring to incoming and transfer students
Note: Spring 2022 (January-May): During this portion, student mentees will no longer be required to formally attend programs. Students are free to continue their mentoring relationship by keeping in touch with their mentors.