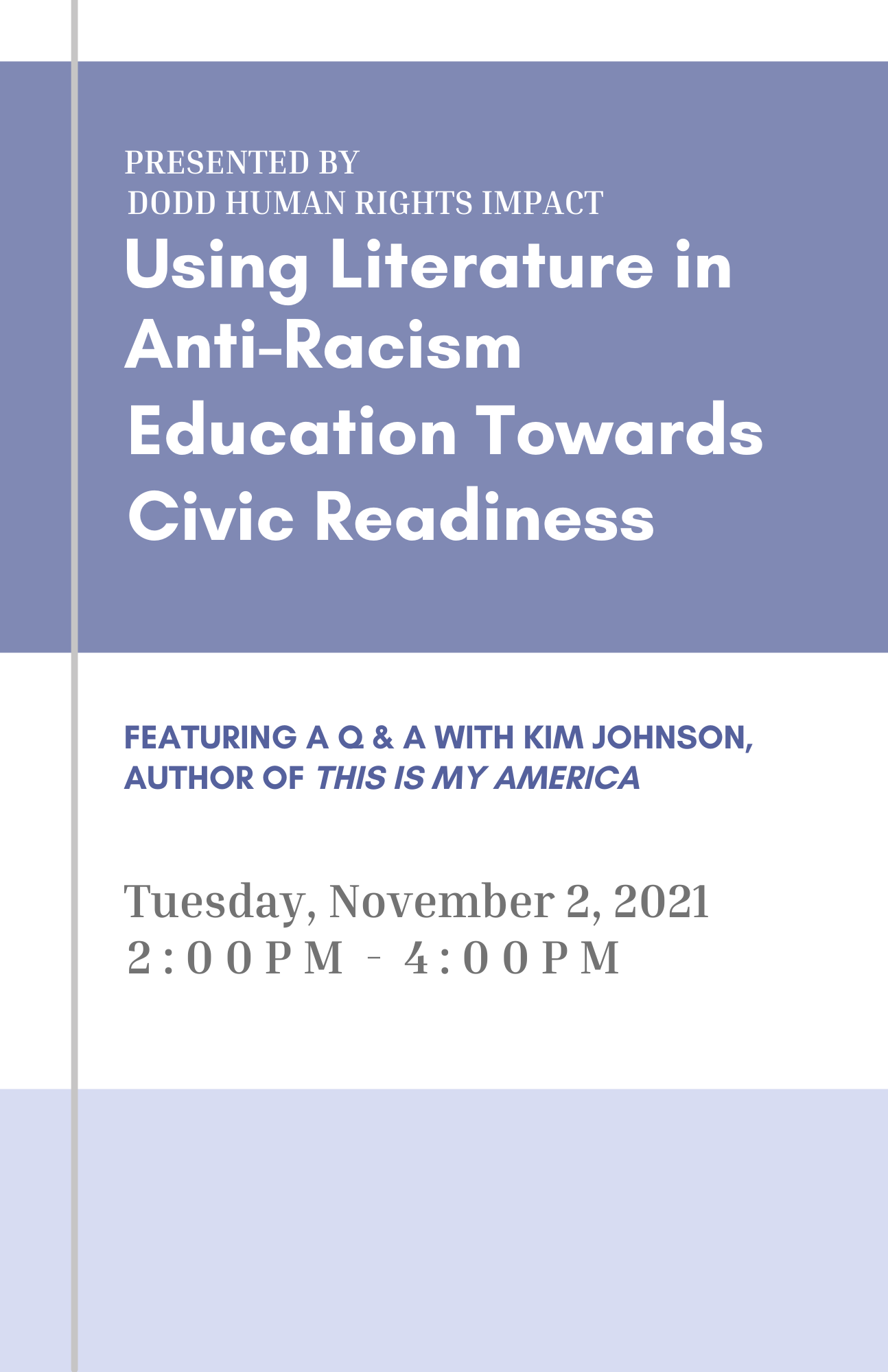 The Dodd Center will be offering a workshop for pre-and in-service educators to explore the use of literature in Anti-Bias and Anti-Racism (ABAR) education towards civic activism. Participants will engage with the novel This is My America by Kim Johnson. In addition to the broad ABAR education practices using literature, the workshop will also engage educators in the civic aspect of literature instruction - issues such as intellectual freedom, selecting diverse texts and authors, responding to book censorship and text selection mandates. We will put This is My America in conversation with The Students' Right to Read, a position statement by the National Council of Teachers of English. The workshop will focus on two areas of professional development: ABAR Literature instruction (In the Classroom) and A Program of Action (beyond the classroom). A Q&A with author Kim Johnson will follow the workshop.
Kim Johnson was awarded the Malka Penn Award for Human Rights in Children's Literatures for her novel, This is My America. The Malka Penn Award for Human Rights in Children's Literatures given annually to the author of an outstanding children's book addressing human rights issues or themes such as discrimination, equity, poverty, justice, war, peace, slavery or freedom.
This event is sponsored by Human Rights Close to Home, an initiative of Dodd Impact. With the overall objective of transforming civics education within and beyond Connecticut, the Human Rights Close to Home initiative is designed to directly engage key stakeholders including educators and youth in the development and implementation of a model of human rights education for civic action. HRCH empowers teachers with the knowledge, skills, values, and relationships necessary to become expert human rights and civics educators. Moreover, HRCH fosters youth leadership with experiential learning opportunities that have a direct impact on them and their communities.
Date: November 2, 2021
Time: 2:00 – 4:00 PM
Format: Virtual
---