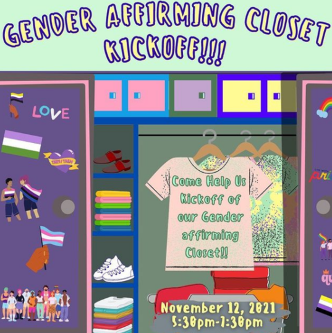 The Rainbow Center is thrilled to hold our annual Gender Affirming Closet Kickoff! The Gender Affirming Closet (GAC) was started by Lucas Brunt as an Individual Project in the Spring of 2020. It is now a permanent project taken on by the Rainbow Center to provide gender-affirming clothes and shapewear to those who need it.
The kickoff event will celebrate the opening of the GAC by providing attendees with information, opportunities to donate clothes, and time to "shop" the closet. Light refreshments will be available!
Topic: Gender Affirming Closet Kickoff
Date: November 12, 2021
Time: 5:30 – 7:30 PM,
Format: In-Person, Rainbow Center
We thank the Asian American Cultural Center, the College of Liberal Arts and Sciences, Native American Cultural Programs, the Women's Center, and the Women's, Gender, and Sexuality Studies Program the Puerto Rican/Latin American Cultural Center for supporting us with this event.
---