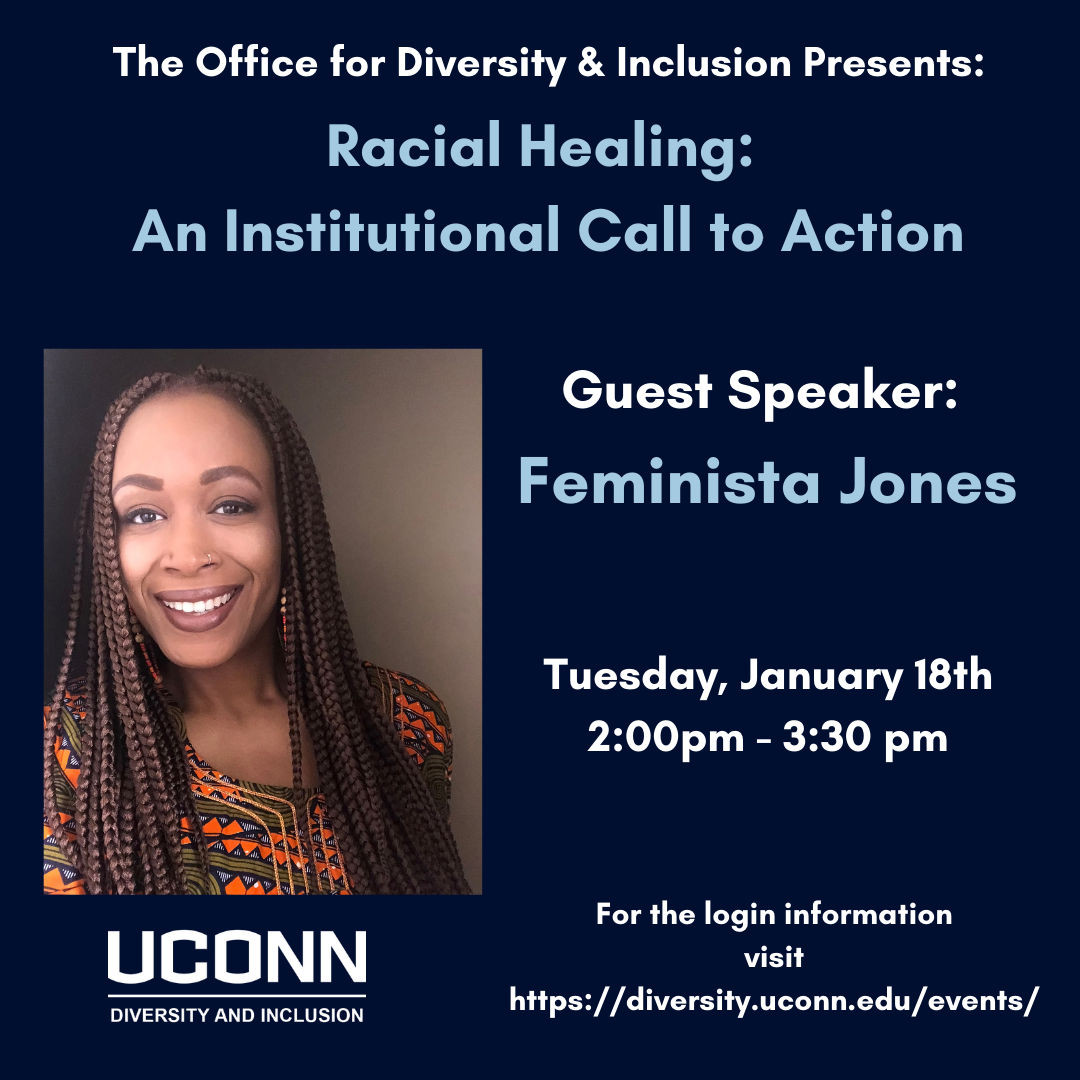 Racial Healing: The Need for Radical Action in Institutions
Tuesday, January 18th 
The Office for Diversity and Inclusion is hosting a virtual event in honor of the National Day of Racial Healing:
Guest Speaker: Feminista Jones
Feminista Jones is a Philadelphia-based feminist writer, public speaker, community activist and social worker. She is an award-winning writer and the author of the critically acclaimed Reclaiming Our Space: How Black Feminists Are Changing the World From the Tweets to the Streets (Beacon). Her work centers around queer identity, critical race theory, intersectionality, mental health and social work. She also teaches a course on the African American Queers Experience at Temple University. Jones' passion and talent for writing have led to her being published in the New York Times, Washington Post, Time, Essence, Out, Complex, The Philadelphia Inquirer, Salon, and EBONY magazine to name a few publications. She currently operates her own subscription-based platform, and contributes to various publications as a freelancer and commissioned writer. She's also been featured on the Oprah Winfrey Network. Because of her work, Jones has been extensively featured in publications around the world, including The Boston Globe, Detroit Free Press, Huffpost, Jet magazine, Ms., The New York Times, NBC News, Newsweek, NPR, The Washington Post, USA Today and The Intercept. Jones is also a mom, an organizational leadership, management, culture and diversity consultant, a mentor to young girls and women, a Ph.D. student at Temple University and an outspoken advocate for the homeless, people living in poverty and those living with psychiatric disabilities.
Recording link [needs netid to access]
https://kaltura.uconn.edu/media/Racial+HealingA+An+Institutional+Call+to+Action/1_xziwzmkh
---