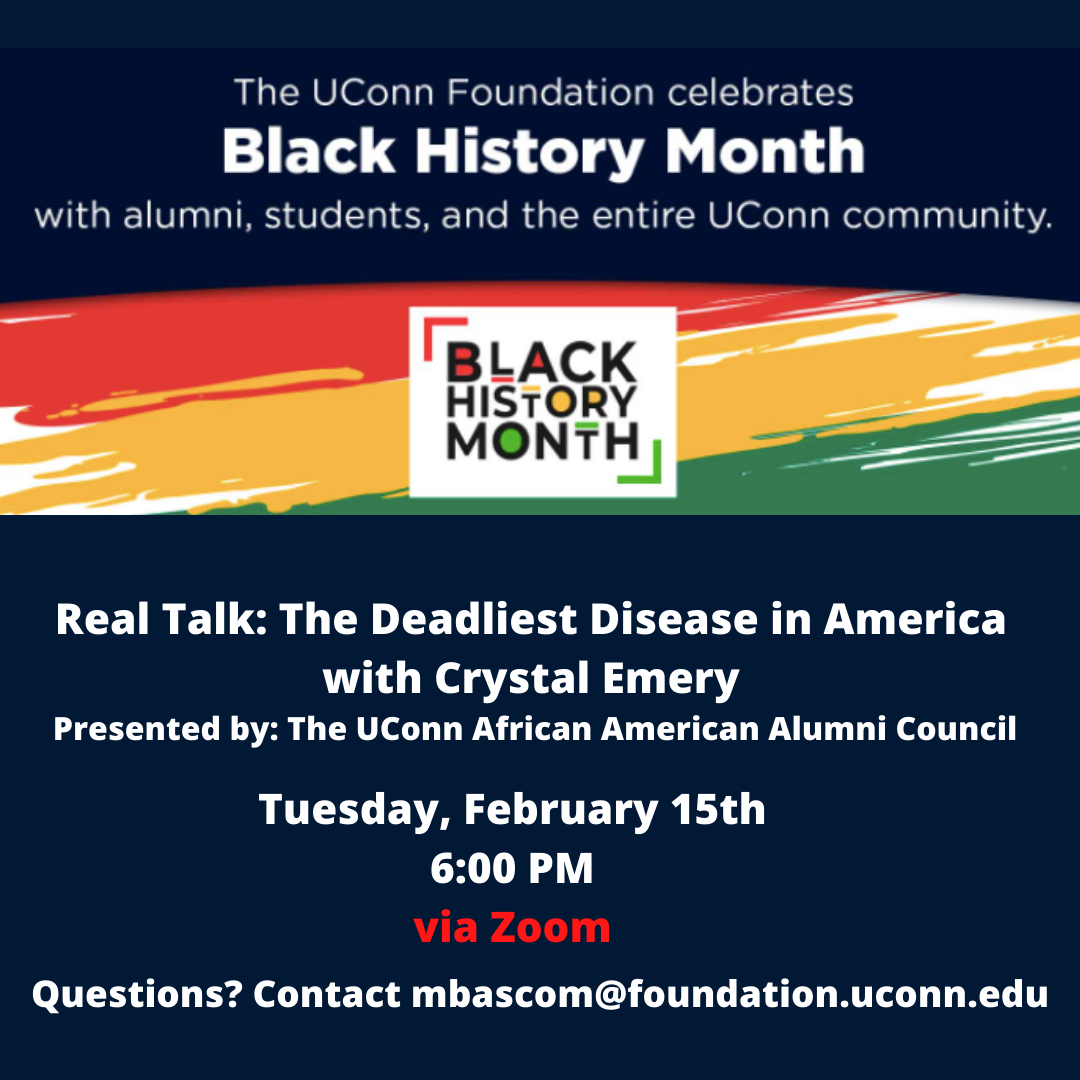 Tuesday, February 15, 2022, 6:00 PM via Zoom (Register HERE)
The Office for Diversity and Inclusion is pleased to announce special speaker Crystal Emery as part of the UConn Foundation and UConn African American Alumni Council's "Real Talk" mini-series on life-changing topics. Please join us for "Real Talk: The Deadliest Disease in America with Crystal Emery."
We all wear identification tags. Some of mine are daughter, wife, sister, filmmaker, Black, woman, chef, differently abled, etcetera.
At the start of the day and at the end of the day, my greatest desire is just to be a human being. I just want to be free – free to use my brilliance and my talents. There is something impeding our right to freedom. There is something that is killing us, that is killing the very foundation of America, and the spirit of humanity in our world. The deadliest disease in America isn't COVID-19. It is Racism.
The Deadliest Disease in America permeates every aspect of our lives to the point where the most sacred spaces within the Black, Brown and Indigenous communities are violated. What is needed now more than ever is for each of us to make an unequivocable commitment to healing; to our own path of healing that will really move us towards equity. Because if we continue to polarize, to combat one another, we will never get there. The work to heal is serious. You must cut deep into the infection to get to the root of the disease called racism. It starts with individuals because individuals create policies and policies create institutions. I don't want to call you out. I want to call you in, and in calling you in, you have to understand the truth and reality of the oppression people of color face, and how it affects you and how you perpetuate it – even unconsciously.
This event is free and will be held via Zoom. Please visit the UConn Foundation's Website to register.
---