CT Students for a Dream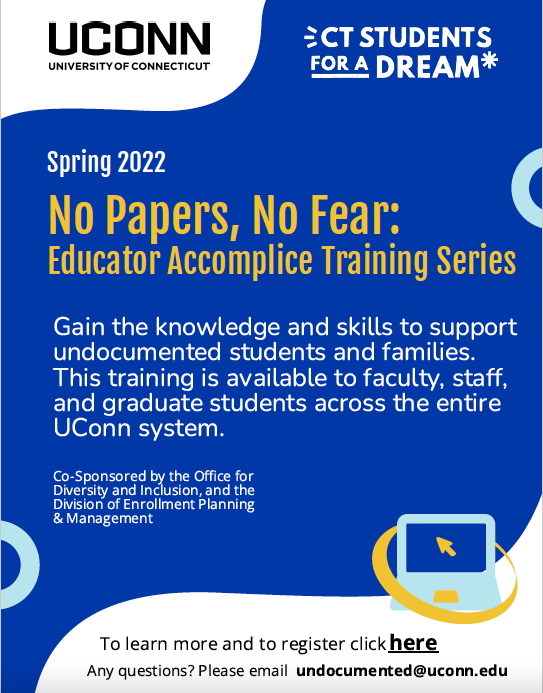 The No Papers, No Fear: Educator Accomplice Training is a two-hour virtual interactive program facilitated by currently and formerly undocumented students that focuses on increasing educators and administrators' knowledge and skills for supporting undocumented students and families. In partnership with Connecticut Students for a Dream, this professional development opportunity is open to UConn faculty, staff, and graduate students. 
Please note: These are stand-alone trainings and participants are encouraged to register for only one workshop. Workshops are capped at 40 participants and registration is first-come, first-serve.
Co-sponsored by the Office for Diversity and Inclusion, and the Division of Enrollment Planning & Management
Training Schedule:
For Advisors: Tuesday, 2/15, 3:00 PM
For Faculty and Teaching Assistants: 2/24, 9:00 - 11:00 AM and 4/5, 3:00 - 5:00 PM
For Pre-K - 12 Professionals: 3/8, 5:00 - 7:00 PM and 3/3, 11:00 AM - 1:00 PM
For Student Life Professionals: 4/21, 11:00 AM - 1:00 PM and 5/17, 9:00 - 11:00 AM
For Health and Wellness Professionals, 3/23, 9:00 - 11:00 AM.
Please visit ODI's web resources for Undocumented Students for more information and to register.
For more information, email undocumented@uconn.edu.
---