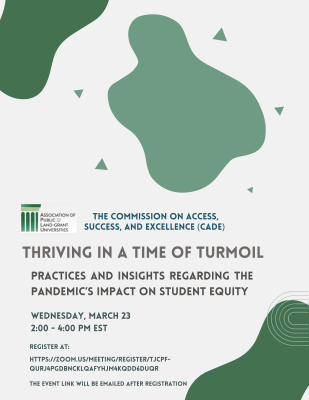 Come join colleagues from the Commission on Access, Success, and Excellence (CADE) for a Virtual Spring Convening titled, Thriving in a Time of Turmoil on Wednesday, March 23, 2022, from 2-4 pm EST.  This session offers a keynote highlighting research on Shared Equity Leadership followed by a panel of senior leaders representing various institutional types who will offer lessons learned, promising practices and insights regarding the Pandemic's Impact on Student Equity.  After the panel, there will be breakout room discussions and the session will end with highlights and learning-related sharing from participants.
Title: Thriving in a Time of Turmoil
Date: March 23
Time: 2:00-4:00 pm (Eastern)
Registration: https://zoom.us/meeting/register/tJcpf-qurj4pGdBNCKlqaFYhJm4kQDd6DUqr  (After registering, you will receive a confirmation email containing information about joining the meeting.)
Agenda Outline (more complete agenda to follow):
Keynote: Dr. Elizabeth Holcombe, Shared Equity Leadership: Building Institutional Capacity
Panel Discussion: Impacts of the Pandemic on Student Equity – Sharing Insights and Lessons Learned from different campus leaders
Breakout room discussions facilitated by CADE members to share and gather examples of learning from the Pandemic
We look forward to seeing you!
---