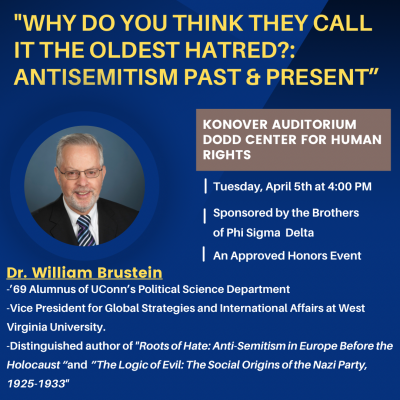 The Center for Judaic Studies and Contemporary Jewish Life invites you to "Why do you think they call it the oldest hatred?: Antisemitism-Past & Present," a talk by Dr. William Brustein.
Drawing on more than 40 years of empirical research on antisemitism in Europe and the U.S., he intends to offer key insights into the ubiquity of antisemitism. Among the questions to be addressed in his presentation are: why did antisemitism reach such heights before the Holocaust? How do we explain societal and temporal variation in antisemitism?, How does antisemitism differ from other forms of ethnic, racial and religious prejudice? Is leftist antisemitism new?, and how does present-day antisemitism differ from past antisemitism?
Dr. Brustein is author of the "Logic of Evil" and a professor at West Virginia University.
This is an Honors Event. It will be held in-person event on Tuesday, April 5, from 4:00 PM to 6:00 PM at the Konover Auditorium, Thomas J. Dodd Research Center.
---