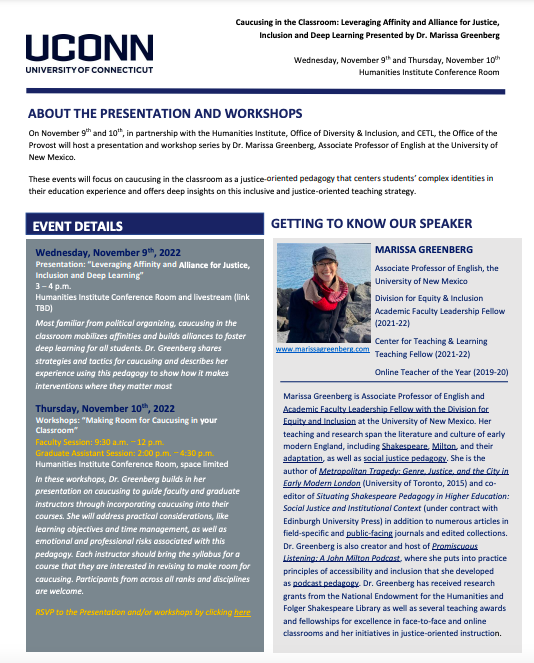 The Office of the Provost, in partnership with the Humanities Institute, CETL, and ODI,  will host a two-day presentation and workshop series by Dr. Marissa Greenberg, Associate Professor of English at the University of New Mexico.
The presentation on November 9th will introduce the concept of utilizing 'caucusing' as a justice-oriented teaching pedagogy which supports students in centering their identity in their education experience, and the workshops hosted on the 10th will be an opportunity for faculty and graduate assistant groups to dig deeper into the lessons learned during the presentation and to work hands-on on selected syllabi to integrate these concepts into their teaching. Additional details are below.
Wednesday, November 9th, 2022
Presentation: "Leveraging Affinity and Alliance for Justice, Inclusion and Deep Learning"
Time: 3 – 4 p.m.
Location: Humanities Institute Conference Room and livestream (link TBD)
Most familiar from political organizing, caucusing in the classroom mobilizes affinities and builds alliances to foster deep learning for all students. Dr. Greenberg shares strategies and tactics for caucusing and describes her experience using this pedagogy to show how it makes interventions where they matter most
Thursday, November 10th, 2022
Workshops: "Making Room for Caucusing in your Classroom"
Faculty Session: 9:30 a.m. – 12 p.m.
Graduate Assistant Session: 2:00 p.m. – 4:30 p.m.
Location: Humanities Institute Conference Room, space limited
In these workshops, Dr. Greenberg builds in her presentation on caucusing to guide faculty and graduate instructors through incorporating caucusing into their courses. She will address practical considerations, like learning objectives and time management, as well as emotional and professional risks associated with this pedagogy. Each instructor should bring the syllabus for a course that they are interested in revising to make room for caucusing. Participants from across all ranks and disciplines are welcome.
The 11/9 event will be hybrid (in-person and live streamed). The 11/10 event will be in-person. Please RSVP in advance.
---