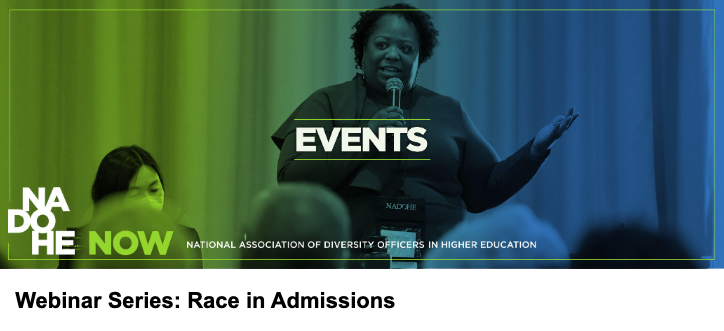 Registration is still open for both parts of the National Association of Diversity Officers in Higher Education (NADOHE) webinar series: Challenges to Race in Higher Education Admissions: Understanding the Issues before the SCOTUS and Institutional Readiness. The series will address key issues associated with the U.S. Supreme Court's upcoming consideration of the SFFA v. Harvard and SFFA v. UNC cases, in which higher education's ability to continue to consider race in admissions has been challenged.
Our presenter is Art Coleman, managing partner and co-founder of EducationCounsel LLC. NADOHE board member Caroline Laguerre-Brown, J.D., vice provost for diversity, equity and community engagement at the George Washington University, will moderate.
This virtual series will be held on two days.  Part One will be held on Thursday, October 20, from 1:00 - 2:30 PM. RSVP here. Part two will be held on November 21, from 11:30 AM - 1:00 PM. RSVP for part two here.
---