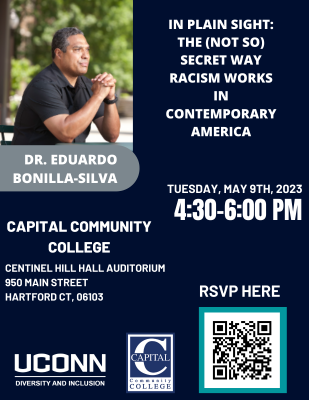 The Office for Diversity and Inclusion is pleased to announce an in-person talk by Dr. Eduardo Bonilla-Silva, the James B. Duke Distinguished Professor of sociology at Duke University. He is the author of Racism without Racists: Color-Blind Racism and the Persistence of Racial Inequality in the United States (2003), an influential book that changed discussion on prejudice within academia and has also served as a public intellectual who helps non-academic audiences think about the pervasiveness of racism in the United States.
Dr. Bonilla-Silva will discuss racism in the United States, as well as efforts to make universities multicultural and democratic for real. This in-person talk will be held on Tuesday, May 9th, from 4:30 to 6:00 PM at Capital Community College's Centinel Hill Hall Auditorium (950 Main Street, Hartford, CT 06103). Please RSVP here.
Virtual option:
https://uconn-cmr.webex.com/uconn-cmr/j.php?MTID=m656261791227ddbb064435462175b8cf 
Tuesday, May 9, 2023 4:00 PM | 2 hours 30 minutes | (UTC-04:00) Eastern Time (US & Canada)
Meeting number: 2620 139 5028
Password: Tfm29TftXR5
Join by video system
Dial 26201395028@uconn-cmr.webex.com
You can also dial 173.243.2.68 and enter your meeting number.
Join by phone
+1-415-655-0002 US Toll
Access code: 262 013 95028
---