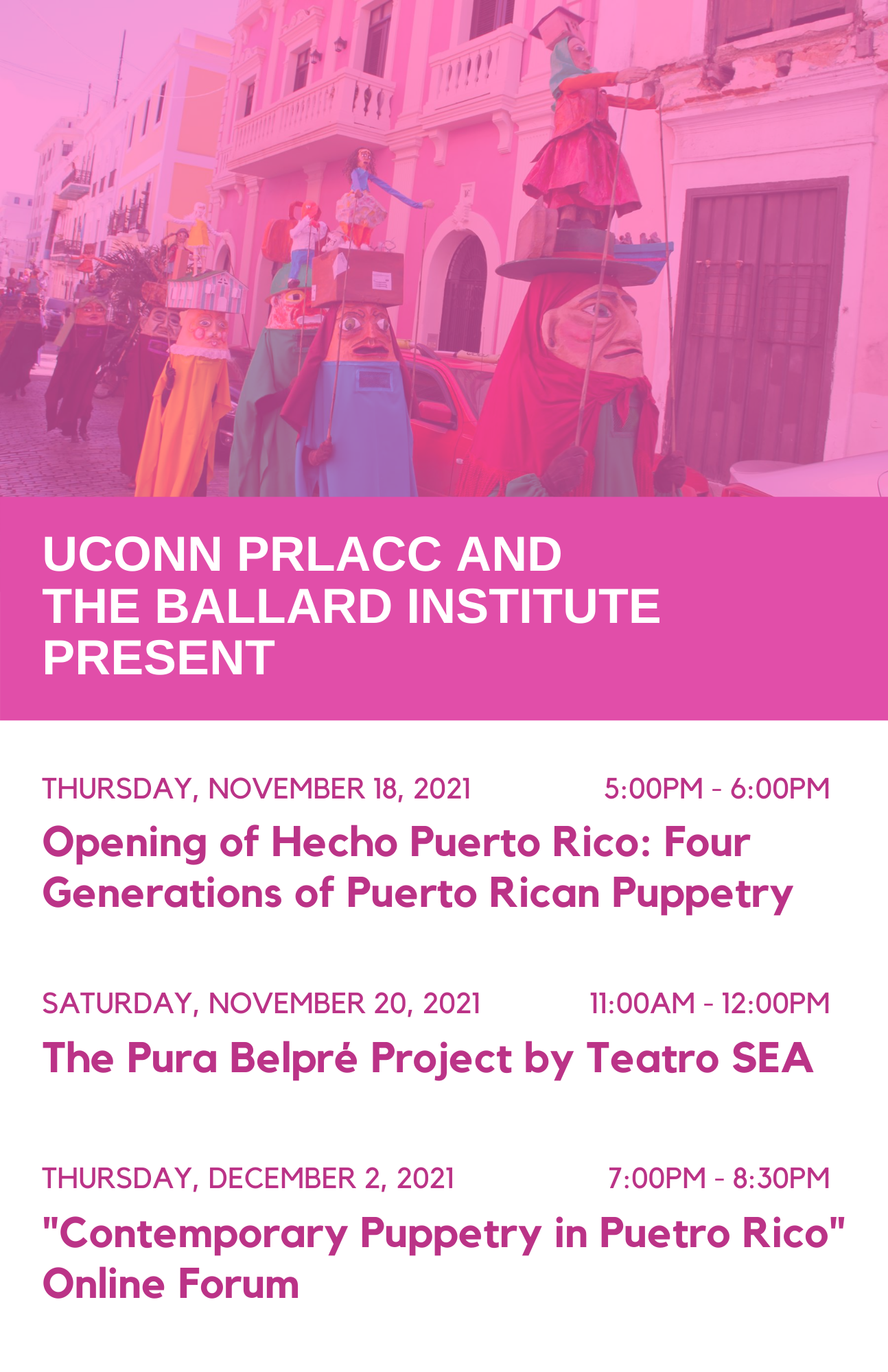 The Puerto Rican / Latin American Cultural Center is thrilled to partner with The Ballard Institute and Museum of Puppetry as part of the Institutes 2021 Fall Puppet Forum Series.
PRLACC will participate in two installments. The first is the opening of Hecho en Puerto Rico: Four Generations of Puerto Rican Puppetry, for which the Ballard Institute is pleased to present The Pura Belpré Project by Teatro SEA. Pura Belpré (1901-1982) was a talented author, collector of folktales, puppeteer, and storyteller who wrote and reinterpreted Puerto Rican folk tales. As the first Puerto Rican librarian in the New York Public Library system, she pioneered many programs for the Latino community. Teatro SEA's The Pura Belpré Project is a re-enactment of her legendary "Bilingual Story Hour." Her famous tales–Pérez & Martina, Juan Bobo, and The Three Magi–come to life in a creative and interactive experience that combines storytelling with puppets! Recommended for pre-k to 3rd grade. This performance is bi-lingual.
As part of the second installment, the Ballard Institute host "Contemporary Puppetry in Puerto Rico" with exhibit co-curators Dr. Manuel Morán and Deborah Hunt, and puppeteers Pedro Adorno, and Tere Marichal The forum, moderated by Ballard Institute director John Bell, will consider the history of the form in Puerto Rico, as presented in Hunt and Morán's Hecho en Puerto Rico: Four Generations of Puerto Rican Puppetry exhibition, and the ways that puppetry in Puerto Rico has pursued educational, entertainment, cultural, and activist goals over the past fifty years. "Contemporary Puppetry in Puerto Rico" will also discuss the situation of Puerto Rican puppetry today and its possibilities for the future.
Date: November 18, 2021; November 20, 2021; December 2, 2021.
Time: 5:00 to 6:00 PM on 11/18; 11:00 AM – 12:00 PM on 11/20; 7:00 – 8:30 on 12/2.
Format: Virtual
We thank the UConn Puerto Rican and Latin American Cultural Center (PRLACC) and El Instituto: Institute of Latina/o, Caribbean, and Latin American Studies for co-sponsoring this event.
---