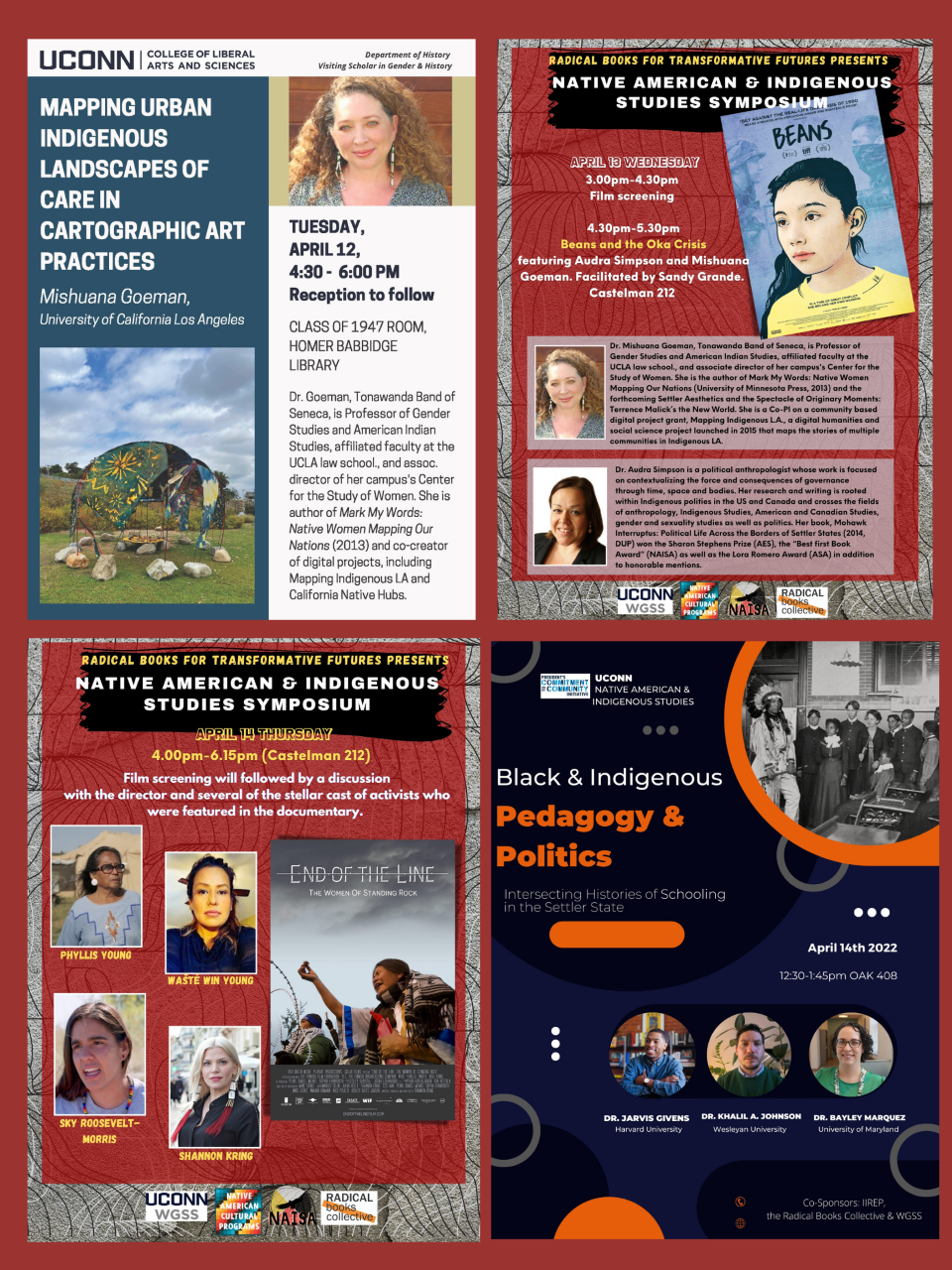 UConn is excited to gather the most Native and Indigenous scholars, activists, artists, and organizers ever on campus at one time to hold a week-long series of events focusing on Native American and Indigenous Studies. These event build upon those hosted by Kat Milligan-McLellan in the fall "Indigenous Women and Two-Spirits in STEM" and this week by Nate Acebo "Indigenous Futures Through Multimedia." 
UConn undergraduate students, graduate students, staff, and faculty are invited to join (though the "Red Praxis" teaching workshop is limited to faculty and graduate students).
All events will be held in person.
April 12 Tuesday
4:30 PM | 6:00 PM -- Class of 1947 Room, Babbidge Library
Public Lecture by Mishuana Goeman, Visiting Scholar in Gender and History.
"Mapping Urban Indigenous Landscapes of Care in Cartographic Art Practices"
April 13 Wednesday
11:00 AM – 12:30 PM | Oak 106
"Red Praxis: Teaching Against Empire."
Workshop led by Sandy Grande. Open to faculty and graduate students only.
 3:00 AM – 4:30pm | Castleman 212
Film screening: Beans, directed by Tracey Deer (2021).
Followed by a panel discussion, "Beans and the Oka Crisis" with Audra Simpson and Mishuana Goeman.
April 14 Thursday
12:30-1:45 | Oak Hall 408
"Black and Indigenous Politics and Pedagogies: Schooling in the Settler State"
with Khalil Anthony Johnson, Bayley Marquez, and Jarvis Givens.
4:00 PM – 6:15 PM | Castleman 212
Film screening: End of the Line: Women of Standing Rock
Followed by a panel featuring director Shannon Kring and the activists who comprise the cast of the film: Phyllis Young, Wašté Win Young, and Sky Roosevelt-Morris.
We are thankful to our many sponsors: Radical Books Collective, WGSS, NAIS, NACP, POLS, the President's Commitment to Community Grant and CLAS and individuals who have supported us!
---