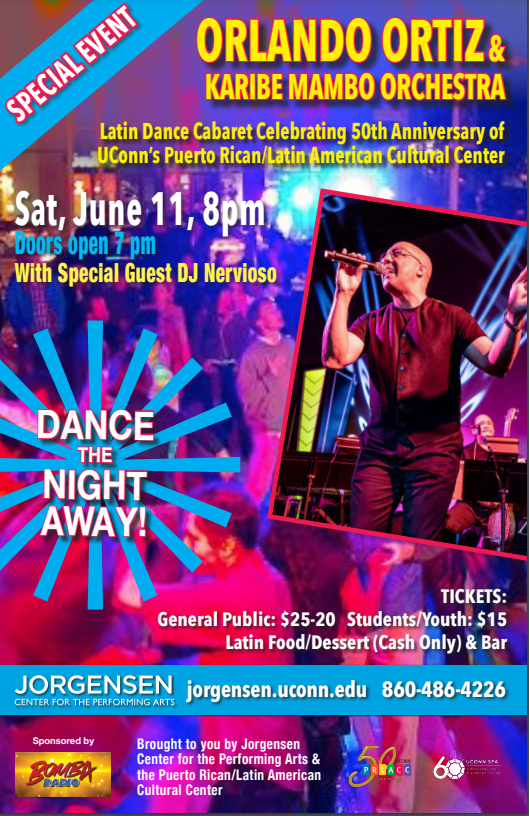 The Puerto Rican / Latin American Cultural Center (PRLACC) and Jorgensen Center for the Performing Arts invite you to "Latin Cabaret: Celebrating the 50th Anniversary of PRLACC!"
Break out your dancing shoes and join us for a special evening of live music and dance in honor of the 50th anniversary of UConn's Puerto Rican/Latin American Cultural Center. Get here when doors open at 7:00 PM because DJ Nervioso will be mixing live before Orlando Ortiz & Karibe Mambo Orchestra take the stage. 

Orlando Ortiz & Karibe Mambo Orchestra are a ten-piece Latin band that has been setting the tri-state area (NY, CT, NJ) on fire with their unique sound for almost 20 years. The band is an ensemble of seasoned musicians who have played in some of the best musical groups throughout the U.S. and abroad. First and foremost a dance band, they project a powerful and energetic sound, specializing in Caribbean music - Salsa, Cha-Cha-Cha and Son Montuno. 

Get ready to dance the night away! This in-person event will be held on Saturday, June 11th. You can purchase tickets and find the most up-to-date COVID policy at the Jorgensen website.
---