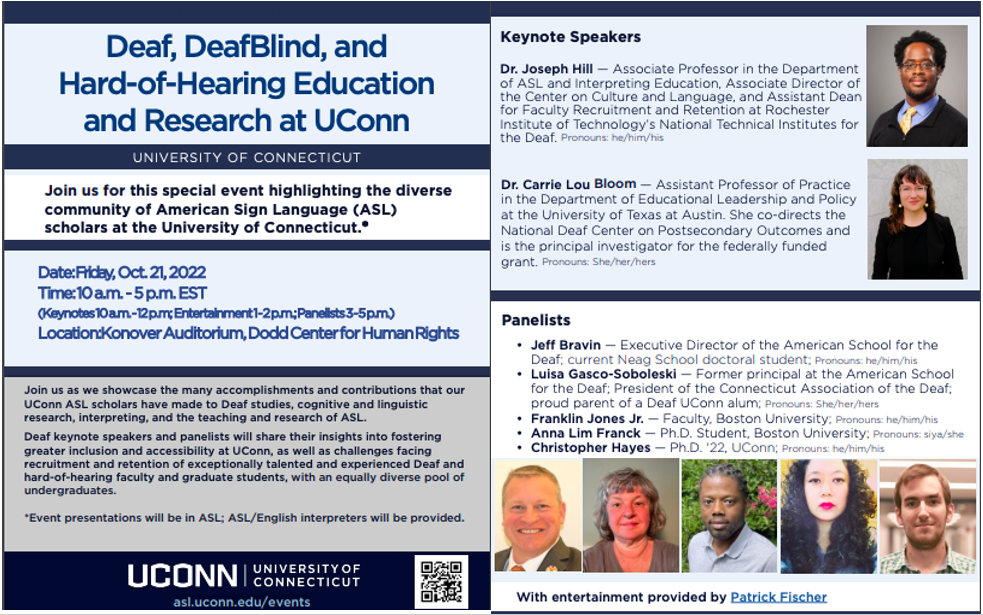 The ASL Studies Program, the Department of Literatures, Cultures, and Languages, and the Department of Linguistics invite you to "Deaf, Deafblind, and Hard-of-Hearing Education and Research at UConn."
This event will feature keynote speakers Dr. Carrie Lou Bloom, co-director of the National Deaf Center on Postsecondary Outcomes and Dr. Joseph Hill of Rochester Institute of Technology's National Technical Institute for the Deaf. It will also feature a panel with:
Jeff Bravin — Executive Director of the American School for the Deaf; current Neag School doctoral student; Pronouns: he/him/his
Luisa Gasco-Soboleski — Former principal at the American School for the Deaf; President of the Connecticut Association of the Deaf; proud parent of a Deaf UConn alum; Pronouns: She/her/hers
Franklin Jones Jr. — Faculty, Boston University; Pronouns: he/him/his
Anna Lim Franck — Ph.D. Student, Boston University; Pronouns: siya/she
Christopher Hayes — Ph.D. '22, UConn; Pronouns: he/him/his
In addition to our Deaf keynote speakers and panelists, we will showcase our diverse community of ASL scholars here at UConn and the many accomplishments and contributions made to field of Deaf studies, cognitive and linguistic research, interpreting and the teaching and research of ASL.
The community is invited to engage in a series of conversations as we capitalize on current strengths at UConn, promote and expand our recently introduced ASL Studies major, and address critical needs in a distinctive and uniquely collaborative way. This event will address ways in which we can foster greater inclusion and accessibility in higher education for people who are Deaf, hard of hearing, DeafBlind, as well as discuss the many challenges regarding recruitment and retention of highly talented faculty, graduate students including a diverse pool of Deaf, hard of hearing, DeafBlind undergraduates.
Entertainment will be provided by Patrick Fischer.
This in-person event will be held on Friday, October 21st, from 10:00 AM to 5:00 PM. It will be held at Konover Auditorium. No RSVP required. See the ASL Department Events page for more info.
---