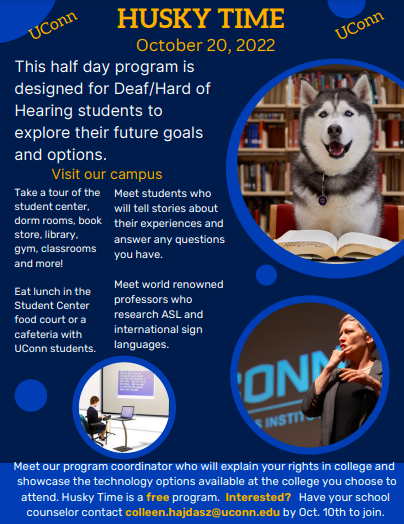 The University of Connecticut Interpreting & Communication Access (UCIS) division invites deaf and hard-of-hearing high school students to visit the UConn Storrs campus for a half-day program designed to help them explore their future goals and options.
Visit UConn Storrs and
Take a tour of the Student Center, dorm rooms, book store, library, gym classrooms and more!
Meet students who will tell their stories about their experiences and answer any questions.
Eat lunch in the Student Center food court or a cafeteria with UConn students.
Meet world renowned professors who research ASL and international sign languages.
Meet our program coordinator, who will explain your rights in college and showcase the technology options available at the college you choose to attend.
This FREE in-person event will be held on Thursday, October 20th. If interested, have your school counselor and/or staff contact Colleen from UCIS at: colleen.hajdasz@uconn.edu
---