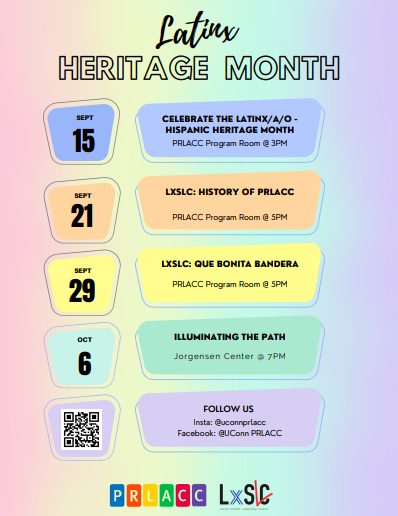 September 15th through October 15th is Hispanic and Latina/o/x Heritage Month in the United States! ODI, PRLACC, El Instituto, and the Hartford Campus invite you to join us in celebrating Hispanic and Latina/o/x history, culture, and heritage through the following events:
Celebrating Hispanic/Latino/a/x Heritage Month:  "Unidos: Inclusivity for a Stronger Nation.
Thursday, September 15, 12:00 PM
Hartford Public Library
UConn Hartford, UConn School of Law, and UConn School of Social Work will be sponsoring a Hispanic and Latino/a/x Heritage Month event at the Hartford Public Library. Enjoy networking, live music, light refreshments, and hearing from our featured speaker.  This year's featured speaker is Jacquelyn Santiago, Chief Executive Officer of COMPASS Youth Collaborative and City of Hartford's Human Relations Commissioner. See her bio here.
Puerto Rican / Latin American Cultural Center Open House
Thursday, September 15, 3:00 PM
PRLACC Student Union RM 438
Learn about the exciting programs PRLACC is having for this academic year, meet our Latinx/a/o undergraduate and graduate students, savor a delicious Latinx appetizers while admiring our historical timeline to keep celebrating our 50th Anniversary.
Amistad: Facts and Fictions of Slavery in Film
Thursday, September 20, 7:00 PM
CT's Old State House or Online. Register here.
Join El Instituto's panel of experts: Dr. Dexter Gabriel (UConn History), expert on the subject of slavery in film and popular culture, Dr. dann j. Broyld (UMass Lowell African American History), authority on the history of slave resistance and abolition in the US, and Dr. Jorge Felipe-González (U Texas San Antonio History), who will speak about the significance of the Amistad case in the history of Cuban slavery, as well as a critical view of the strengths and shortcoming of the award-winning 1997 film as a representation of the story.
LXSLC: The History of PRLACC
Friday, September 21, 5:00 PM
PRLACC Program Room, SU 438
The LxSLC Council will be hosting an event to share the history behind and showcase videos about the Center.
Que Bonita Bandera
Thursday, September 29, 6:00 - 8:00 PM
PRLACC Program Room, SU 438
 Come show some pride, paint your flag, and de-stress!
Illuminating the Path.
Thursday, October 6, 7:00 PM
Jorgensen Center for the Performing Arts
 As part of our 50th anniversary, we have commissioned a musical piece by composer Paola Marquez to be premiered at UConn, featuring our own alumna Angie Durrell '11 (violin).  The musicians will also include two other UConn Alumni:  Jonathan Garcia '12 (trumpet) and Joseph Bush '15 (piano). This event will include a concert to highlight a musical soundscape through Latin America and the Caribbean, and a conversation with the composer. See more at PRLACC's website.
Landfall Documentary Screening and Q&A with Director Cecilia Aldarondo & Associate Producer Lale Namerrow Pastor
Thursday, October 13, 2:00 PM
Homer Babbidge Library, UCHI Conference Room. Find more info here.
Through shard-like glimpses of everyday life in post-Hurricane María Puerto Rico, LANDFALL is a cautionary tale for our times.
2022 Luis B. Eyzaguirre Lecture with Professor Guillermina de Ferrari
Tuesday, October 11, 4:00 PM
Konover Auditorium
Guillermina De Ferrari is Halls-Bascom Professor of Caribbean Literatures and Visual Cultures. She is the author of Vulnerable States: Bodies of Memory in Contemporary Caribbean Fiction (Virginia 2007), and Community and Culture in Post-Soviet Cuba (Routledge 2014). She has published many articles on Cuban and Caribbean literature, visual culture, photography, and world literature.
2022 Robert G. Mead Memorial Lecture with Professor Ada Ferrer
Monday, October 24, 4:00 PM
JRB RM 240
Reflect on research in the history of Cubans' justice and liberation struggles and the country's relationships with its Antillean neighbors and the United States. More information soon. Visit adaferrer.net.
At UConn, we celebrate Hispanic and Latina/o/x heritage EVERY month. We invite you to attend these events and to join us in events all through the year!
---