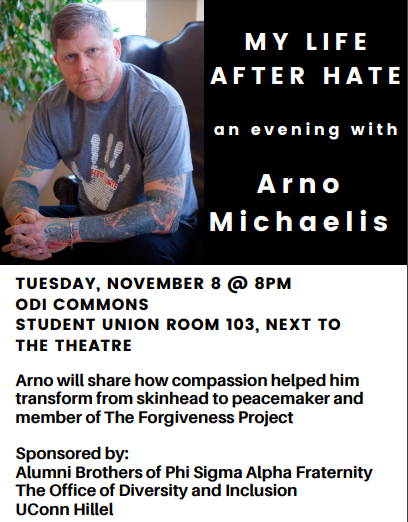 Phi Sigma Alpha, the Office for Diversity and Inclusion, and UConn Hillel invite you to "My Life AFter Hate," an evening with Arno Michaelis.
Arno Michaelis will share how compassion helped him transform from skinhead to peacemaker and member of The Forgiveness Project. In the late 1980s and early 1990s, Arno was a founding member of a notorious worldwide racist skinhead organization, a reverend of a self-declared racial holy war, and frontman of the hate-metal band Centurion, which sold 20,000 CDs by the mid-nineties and is still popular with racists today.
Single parenthood, love for his daughter, and the forgiveness shown by people he once hated all helped to turn Arno's life around, bringing him to embrace diversity and practice gratitude for all life. After spending over a decade as a successful information technology consultant and entrepreneur, Arno is now a speaker, author of My Life After Hate, and very fortunate to be able to share his ongoing process of character development with the world in an effort to counter the cycle of violence he once fueled.
This in-person event will be held on Tuesday, 11/8, at 8:00 PM in the ODI Commons. Please RSVP here.
---